You guys. It's been a hot minute since I've written about Wānaka. 
I've been here for a decade minus a few years where I was in Lyttelton. Even though it's wildly beautiful and incredibly popular with tourists, I've found that I don't often write about it or share much because it's my home. And when I'm home, I am chilling more than exploring. 
But now that tourism is back on the cards, and our empty parking spots are filling up again with campervans, it's time for one of my most requested posts – the most beautiful and Instagrammy photo spots in Wānaka. Ask, and you shall receive – even if it's years later. Hey, I'm human. 
Sometimes I reflect back on my arrival to Wānaka nearly a decade ago and how Instagram wasn't really much of a thing back then. But once word got out, Wānaka became incredibly popular in large part to just how damn photogenic of a place it is. 
With iconic views, a bright blue lake, and generally fantastic weather, it should surprise no one how popular Wānaka is. It's hard to take a bad photo here. But of course, what makes Wānaka extra special is the story of the place and the people behind it. Beyond the epic views and fun adventures, Wānaka is home to some of the most incredibly creative and talented people. It's a bit of a magnet!
Here are my picks for the ten most Instagrammable spots in Wānaka – enjoy!

1. Check out the iconic Cardrona swing
Exploring New Zealand mountain towns is unlike the rest of the world. Our populations are tiny compared to Europe and North America, which means mountain traffic generally is the prerogative of sheep. If you want to get up the hills, you gotta use your own two feet. Or go in a helicopter. 
That being said, we have some of the most incredible ski fields in the world right on the doorstep of Wānaka – Cardrona and Treble Cone. Once the snow melts away in the hotter months, Cardrona turns into a summer paradise. With mountain biking tracks, hiking trails, carting, and tasty meals, it's a great way to get high up in the mountains on your own with a car. 
Head up for the day and check out the epic views in summer – and don't skip out on the iconic swing at the top of McDougall's Express Chondola. Overlooking both Queenstown and Wānaka, the views are epic.
2. Take a photo of the iconic Wānaka tree
A location that needs no introduction is the very famous Wānaka tree – a beautiful willow tree in the lake -that sits near the top of the most Instagrammable spots in Wānaka. The legend goes that the willow tree grew out of an old fence pole left over from a stock fence. With its beautiful silhouette, leaves that change color with the seasons, and stunning mountain backdrop, it's no wonder it makes for a perfect photo. 
Just bear in mind that if you visit during sunrise or sunset, it can often be crowded with photographers and people looking for the perfect capture. Though with time and patience, I'm sure you could get a nice photo.  
I've had a long love-hate relationship with this particular tree. I don't love the idea of people coming to Wānaka to get this specific photo (which people do). It's also not even a native tree. To me, Wānaka is an incredibly dynamic place with so much to offer visitors. Be sure to build in more time to soak it all in thoroughly. 
3. Spend a day hiking out to Rob Roy Glacier
The first hike I took when I moved to Wānaka was to Rob Roy Glacier in Mt. Aspiring National Park. Ever since I have tried to get out here once a year.
You have to drive out to the Raspberry Flat carpark which is about an hour from town, on a road that occasionally has fords you have to cross. But it's so worth it. You climb along a stunning mountain river gorge through the beech forest before popping out below the Rob Roy Glacier. If you stay for long enough, the kea might visit you.
I often see ice avalanches tumble down from the glacier. It's a spectacular place.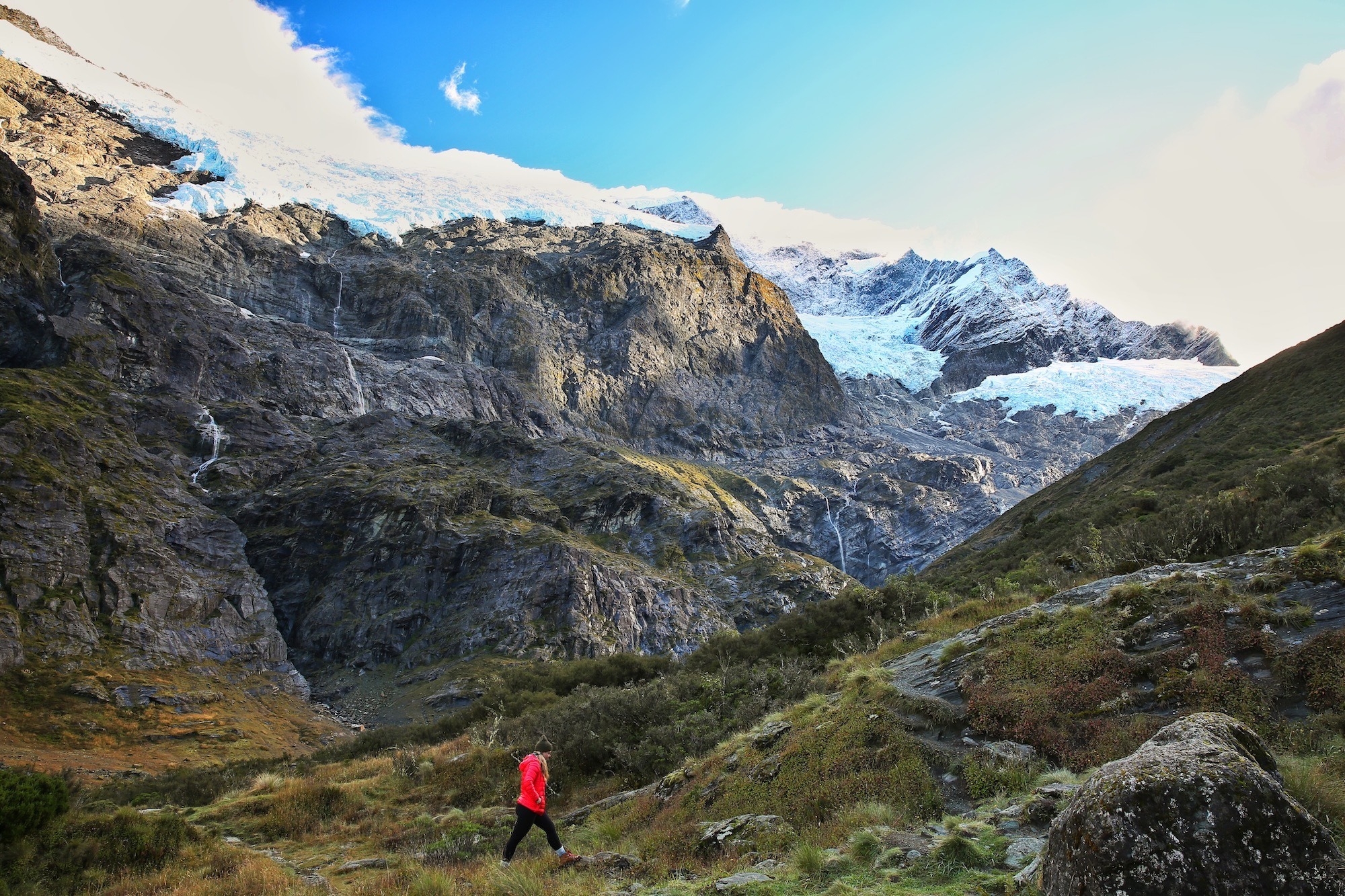 4. Relax and unwind at the local lavender farm
I can still remember when locals opened up the Wānaka Lavender Farm, and it was such an excellent addition to a town most people focus on for skiing or mountain-based adventures. 
As someone who loves flowers and plants, I think it's exceptional getting to experience places like this. 
Over the years, I've watched it grow into an epic destination spot, the perfect place to bring your friends and family and hang out in the gardens. And I never leave without getting lavender ice cream, which is amazing. 
5. Take a big mountain tiny human photo on Roys Peak
If we had to pick the best out of the most Instagrammable spots in Wānaka, it's absolutely Roys Peak. With panoramic views of Wānaka and Mt. Aspiring National Park, it's worth the hype for the view. For years, couples would fly up here in a helicopter (to nearby Coromandel Peak, which has the same view) to take wedding photos. With the rise of visual social media, it quickly took over the 'gram too. 
Two-thirds of the way up the Roys Peak track, an offshoot runs along a ridge where everyone takes their photo. But be prepared to get in line, literally. Everyone wants pictures at this particular spot, and the views are even better if you carry on to the top. 
But as far as tracks go, I find Roys Peak to be kinda lame. It's an old farm 4WD track that zigzags up the mountain. There's no water or shade; the downhill will wreck your knees, so prep accordingly. 
6. Road trip out to the Blue Pools
On the Haast Pass, an hour out of Wānaka on your way to the west coast, you'll pass by the Blue Pools. 
A super chill short walk through the native beech forest will bring you out to the Blue Pools, a stunning ravine cut through by the Makarora River. Here the water is super clear and often reflects neon blue. Freezing, it comes straight down from the Southern Alps. A swim is worth it, but don't expect it to be warm. 
Brave folk often jump off the large swing bridge over the Blue Pools in the summertime, but obviously, do your research beforehand.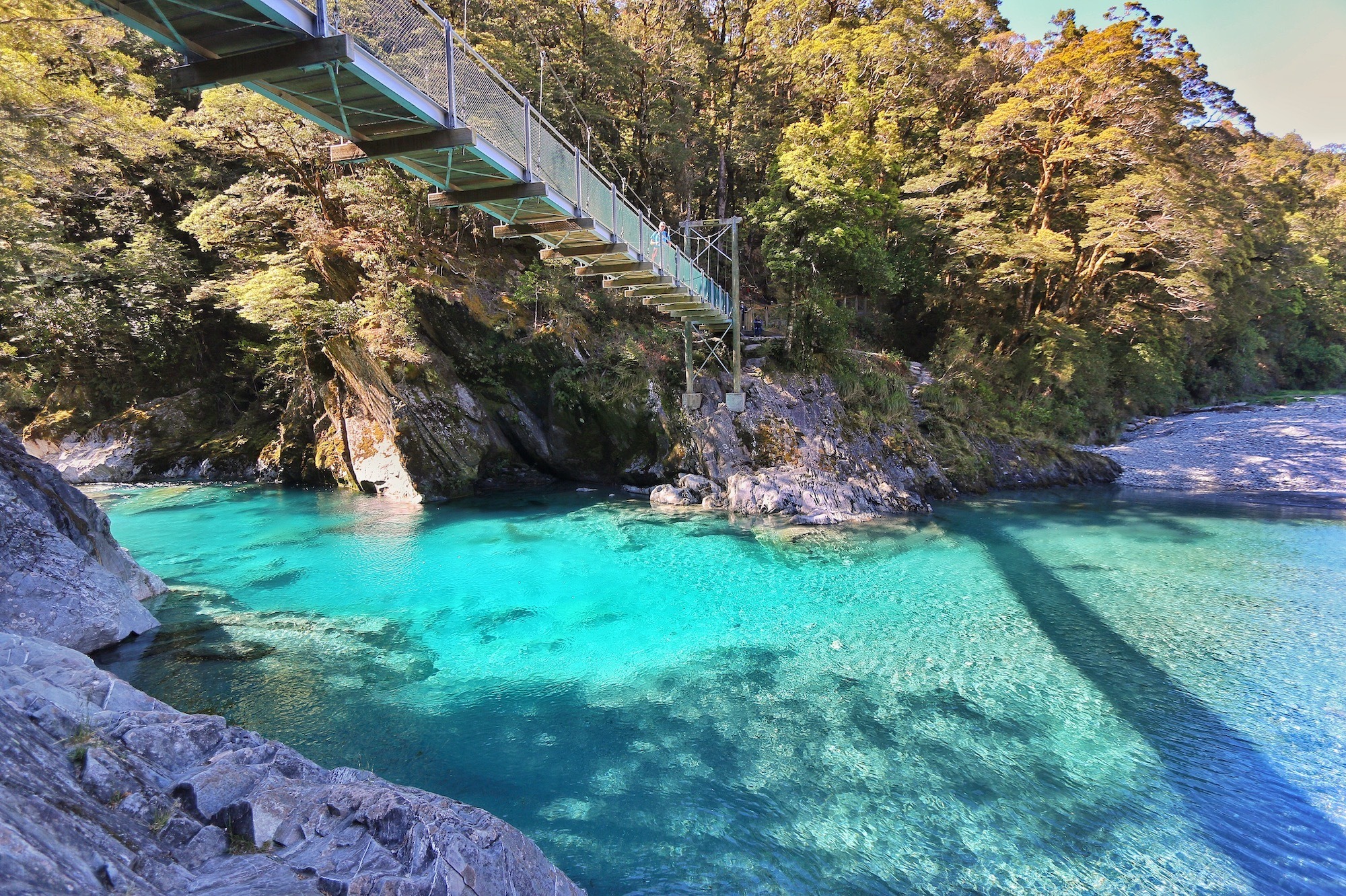 7. Hang out by Lake Hāwea
It's been seven months since I settled into a little house in Hāwea, a small lakeside suburb 20 minutes from Wānaka. And I love it here, and it's definitely underrated as one of the most Instagrammable spots in Wānaka.
Many of my friends have moved out to Hāwea to build their homes and settle down, so I'm in good company. With its alpine lake encircled by big mountains, it's a great place to soak in some epic views. Trails and tracks dot along the ridges and slopes here, making it the perfect spot to relax in nature on your own. 
While the lake in Hāwea is a bit colder than Wānaka, it gets deeper much quicker and is super clear and blue. It would be just like swimming in the Caribbean if it were 20 degrees celsius colder. 
8. Splurge on an epic stay at Mahu Whenua
The end-all-be-all of epic luxury accommodation with a powerful conservation story has to be Mahu Whenua, just outside Wānaka. 'Mahu Whenua' in te reo Māori means 'healing the land.'
Stretching from Lake Wānaka to Arrowtown, Mahu Whenua is New Zealand's largest private conservation project, covering 136,000 acres of land.
Over the past decade, Mahu Whenua's owner has worked hard to restore the land to its pre-farmed state, ensuring it will last the ages with Crown Covenants placed on it. Undertaking extensive research, they began planting millions of native trees, removing predators and pests, which has resulted in increasing numbers of native birdlife in the area.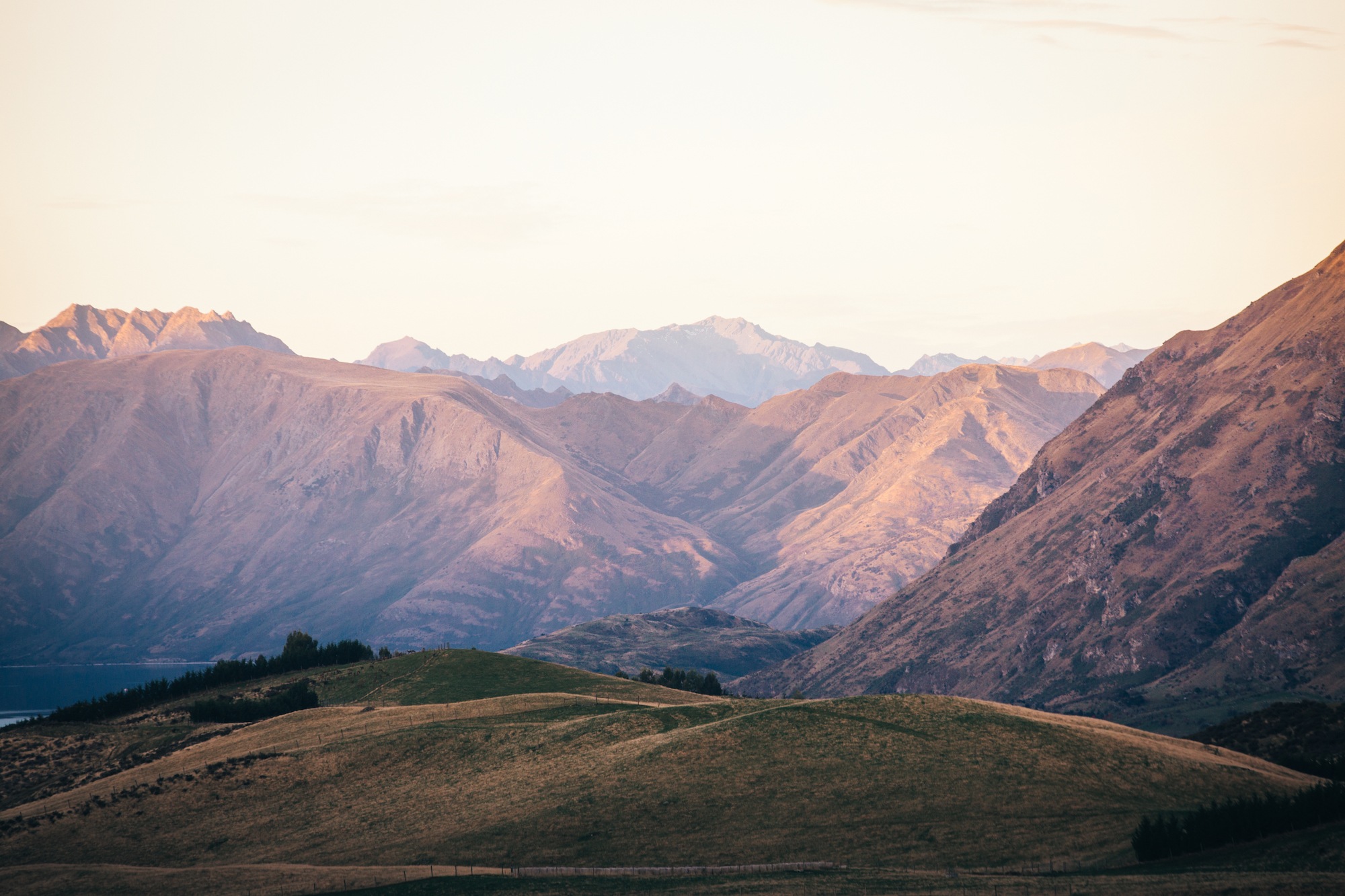 9. Tackle the epic Gillespie Pass – hardcore expert trampers ONLY
One of the most epic tramps with amazing views around Wānaka has to be the Gillespie Pass Circuit near Makarora. A tramp for the experienced, it's a nearly 60-kilometer track through the Southern Alps.
This is not for a novice tramper or even people with some backcountry experience. It involves dangerous river crossings, and several fatalities and rescues have occurred here. You absolutely must have river crossing experience but you can skip them by taking jetboats. Here's a great video compiled by Mountain Safety Council that goes into detail about it. Be sure to use their Plan My Walk app to help tackle it safely and let others know when you expect to finish. Do not attempt in bad weather. The rivers can flood very fast.
Last summer, after nearly a decade of backcountry experience in New Zealand, I finally tramped the whole Gillespie Pass over a couple of days. It totally my ass was kicked, but you know, like, in a good way. Who needs all their toenails anyways? 
The side trip up to Lake Crucible is an absolute must-do, so make sure you build in time for it. You can shorten the journey and make it safer by skipping the river crossings (which can be unsafe even in good weather) by jetboat or helicopter with Wilkin River Jets.  
A less hardcore option would be to jetboat or fly into Siberia Hut and do Lake Crucible as a day hike, stay in the hut, and take a shorter three-hour tramp out to get a jetboat to Makarora the next day. 
10. Soak in the incredible starry night sky 
While the nearby Mackenzie Basin gets all the attention for the largest dark sky reserve in the southern hemisphere, did you know that Wānaka also has incredible stargazing? 
The South Island generally has great stargazing because it's not very populated, and larger populations mean lots of light pollution, which blocks the stars. Almost anywhere around Wānaka at night will have incredible stargazing unless it's cloudy or you are by the rugby pitch during a nighttime game when the spotlights are on.
Head somewhere dark and look up. And look south. You might get lucky and see the Southern Lights twinkling along the horizon. 
Do you have a favorite view in Wānaka? What do you reckon are the most Instagrammable spots in Wānaka? Spill.
The post The 10 most Instagrammable spots in Wānaka appeared first on Young Adventuress.